Elkuch Eisenring AG steel doors – durable and functional
Doors not only open and close – they need to fulfil a multitude of other requirements. Steel doors from Elkuch Eisenring have proven themselves in a variety of installation settings due to their robustness, their design, and their ability to fulfil their purpose.
LAC Lugano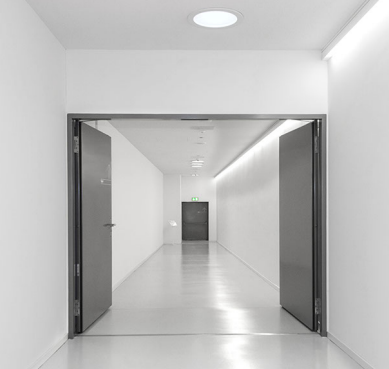 Products that last
Thanks to their strong construction from solid steel sheets, our steel doors ensure effective access protection with high-quality appearance for many years of use. They resist the ravages of time as well as the rough and tumble of daily use. They protect people or valuables from fire and smoke as well as burglars. They provide residential comfort and insulate against noise, heat, cold or simply bad weather.
Order-based and custom-made, they offer maximum freedom for architectural design. The competence of a frame specialist makes it possible to find efficient, functional and style-oriented solutions for (almost) any installation setting.
Comprehensive customer support
Elkuch Eisenring sales outlet managers can help you on site with the design, planning and price determination of projects before the order is placed. We guarantee our market partners a successful implementation of their projects by providing understandable assembly and installation specifications as well as training and support by our customer service.