Train tunnels – the special challenge
Train tunnels pose a special challenge: dynamic alternating pressure loads of up to 10 kPa at several million load changes and static pressures of up to 30 kPA are maximally demanding for door and gate systems. Elkuch has mastered the technology that can ensure reliability and operational safety under these conditions over a service life of at least 20 years.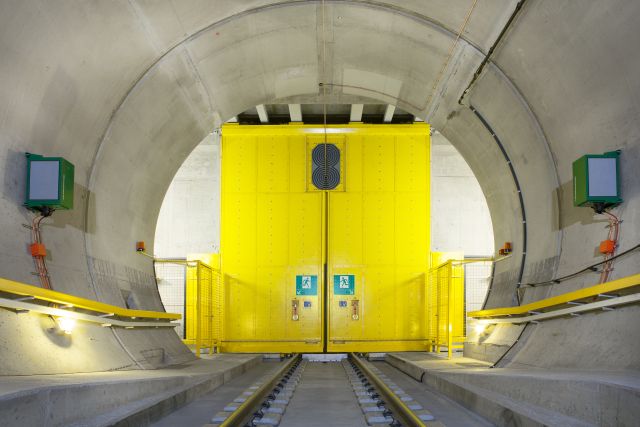 Impressive Swiss GateSystems
Both in operation and in an emergency: nothing may be left to chance when it comes to the functionality of the railway tunnel gates. Already during the development, every component is carefully selected and checked with FE models. The complex steel composite construction of the door leaves and frames as well as the drives and controls are subjected to numerous tests and quality checks. This is the only way to meet the high requirements for fire resistance, smoke tightness, fatigue strength, opening forces and sound insulation and to guarantee absolute operational capability.
Unparalleled references
High-quality engineering and precise working methods enable door and gate solutions that have been successfully installed in major railway tunnel projects. The world's longest railway tunnel, the Gotthard Base Tunnel, completed in 2016 and 57 km long, but also the Loetschberg and Ceneri Base Tunnels are among the remarkable projects that Elkuch has been able to equip with more than 850 safety gates.
Extensive product portfolio
Thanks to its broad experience in railway tunnel construction, Elkuch has a broad and proven product range:
Crossover gates
Lane change gates
Emergency stop gates
Cavern gates
Portal gates
Sluice gates
Mobile gates
Doors and gates for technical rooms
Special door solutions